Posted: Feb 21st, 2011
Rally in Sacramento at State Capitol
When: Tuesday, February 22, 2011
Where: Sacramento, CA

I hope you can join us Tuesday, February 22 in Sacramento at two important rallies:
The noon rally will protest the budget cuts to healthcare, education, senior services and more.
The 5:30 candlelight vigil is a solidarity rally with Wisconsin workers.  Their right to remain unionized is under attack.  Unions have always been in the forefront for healthcare benefits.
Besides attending the rallies, we will be collecting postcards in support of SB 810, the California Universal Healthcare Act.   The passage of single payer healthcare not only provide healthcare to everyone, but it would save Californias tens of billions of dollars. Please let us know if you can help collect postcards.
To make a contribution,  click here.
Or you can send a check to
Single Payer Now
PO Box 460622
San Francisco, CA 94146
You can find us tomorrow by calling my cell phone at 415–810-5826.
Thank you,
Don Bechler
Chair — Single Payer Now
415–810-5826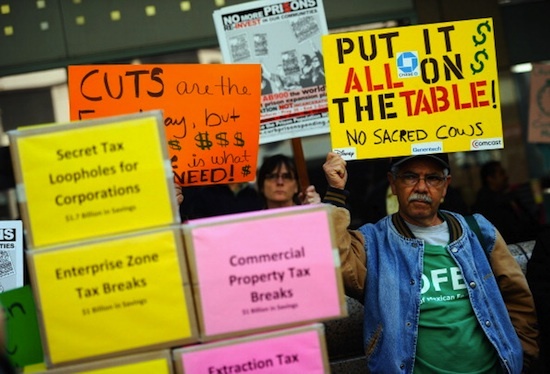 And then at 5;30   "WE ARE ONE" CALIFORNIA ACTION CANDLELIGHT VIGIL in solidarity with Wisconsin Workers Tuesday, February 22nd at 5:30 pm State Capitol West Steps, Sacramento   This isn't just about labor rights — it's about protecting and building the middle class.  It's about our collective rights to organize ourselves.  It's about fighting efforts to silence working families.    It's about freedom.  And it affects us all.  Please spread the word and join us!!! Wisconsin Governor Scott Walker has introduced radical legislation that would deny nearly 200,000 union members in that state their full collective bargaining rights. Public employee contracts would be limited to one year.  Pay would be cut and capped.  Many public employees would be denied collective bargaining rights altogether. Governor Walker has even threatened to mobilize the Wisconsin National Guard if needed to stop protests, intimidate workers, and break unions.  This is a targeted attack on the opponents of Gov. Walker and his allies — an effort to silence them and destroy the livelihood of hundreds of thousands in the process.  And if it works in Wisconsin, California could be next.
Collective bargaining rights — the right to effective representation and belonging to a union — is in jeopardy RIGHT NOW!!!!  WE MUST STAND UP, SHOW SOLIDARITY WITH OUR BROTHERS AND SISTERS IN WISCONSIN, AND FIGHT!!!!   If you can get to Sacramento on Tuesday, then please join us.  If we don't stand up now, then when?  If not us, then who?   Spread this far and wide, and bring others with you!  Friends, family, co-workers, community partners, faith organizations.  We're all in this together!!!   Please let us know if you will stand up with us in Sacramento, and how many people you're bringing!   Don't hesitate to contact me with any questions.  Thank you for your support!
Jason Haenel
Political Action Rep.
AFSCME, Int'l
1121 L Street, Ste 904
Sacramento, CA 95814
(916) 441‑1570 (w)
(202) 256‑4209 ©